Effective Advertising for Direct Sales Consultants
Direct Sales Aid is proud to serve as the web's premier destination for information, networking and answers to all of your questions about direct sales companies. When you visit our site, you'll not only find a list of the most popular direct sales opportunities, you'll also find company backgrounds, product examples, pricing ranges and even rundowns of starter kit contents for direct sales businesses. Each of our listed party plan companies also adheres to the DSA Code of Ethics, which details standards and ethical business practices for the benefit of both representatives and their chosen companies. That means you can look for your next business opportunity without worrying about scams or hype. Our database is the real deal!
Empowering Direct Sales Consultants
Consultants, representatives, salespeople – whatever their title, they're the driving force behind direct sales success. DirectSalesAid.com brings together eager entrepreneurs with customers ready to buy, ensuring a steady flow of sales and interested party hosts. Whether you're looking to add a unique marketing proposition to your own direct sales business or simply want to find a rep in your area for products and information, you'll find it all on Direct Sales Aid!
Find a Consultant Advertise Your Business!
Featured Consultant
A Resource for Trainers & Direct Sales Coaches
Direct sales training and recruiting is a huge part of building successful downline income and powerful teams, but how do you stand out when you have the same training materials as everyone else? Direct Sales Aid offers a better route to finding team members and coaches through an unprecedented direct sales network. Other contact methods, such as social media, aren't made for business-building – unsurprisingly, they're made for socializing. Direct Sales Aid is a destination built with motivated representatives in mind, and acts as a central hub for a direct sales community driven to succeed. Recruit your team, train your team and find mentors and coaches to improve your direct sales income – you'll find it all in one convenient place at DirectSalesAid.com.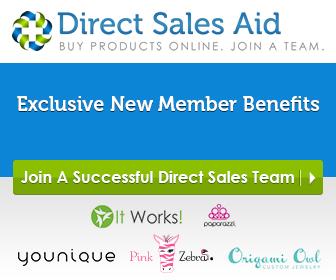 Direct Sales Training, Tips and Secrets
Do you want free tips and tricks for home party sales success? Of course you do! Our article database has all the topics you need, from the most successful approaches to recruiting hosts to marketing ideas that direct sales companies just don't cover in their intro kits. Best of all, it's completely FREE! We're here to support your Direct Sales business and empower you as an entrepreneur, and that means you'll find fantastic content and guides for improving your business each time you stop by, as well as an effective option for advertising your direct sales business.
What Does "Direct Sales" Mean?
As the name implies, direct sales is a method of bringing high quality products to consumers without using an expensive storefront as a middleman. Typically representatives – commission-based salespeople that work for a direct sales company – sell their product lines via home parties or special online sales pages and reap the benefits without needing to rent a store or hire a staff. Starting a direct sales company is a popular choice for those that want to own their own business, but don't want to start from scratch; armed with a known brand name and proven products, the representative earns his or her money on their efforts. This allows them the flexibility to make their own schedule and build their business as much as they desire – in direct sales, the sky's the limit!