Overview | Starter Kit | Compensation Plan
---
Company Overview

My Butterfly Beauty was born from a daughter's admiration of her father's entrepreneurial spirit. When Christina Francis saw the dedication that her father applied towards his peptide-enriched, age-fighting skincare products in the 1990s, she knew it was a cause she wanted to take up herself. A decade of intense scientific and product research and 30 specialist consultations later, she was ready to launch My Butterfly Beauty, a revolutionary new idea in skincare that married an innovative delivery system with a premium formula that filled and smoothed wrinkles with ease.
What Makes My Butterfly Beauty Special?
The secret to My Butterfly Beauty is in HA, or Hyaluronic Acid, a substance that occurs naturally in the body and has the ability to absorb up to 1000 times its own weight in water. By adding it to their special dermal-delivery patches, My Butterfly Beauty products harness this moisture-rich property to fill in fine lines around the brow, crow's feet at the eyes, and even lines at the lips, plumping the skin and giving it a fresher, more youthful appearance.
How are My Butterfly Beauty Products Used?
Patches infused with this formula are applied at the problem areas and given a gentle boost through a painless current, which ensures the formula is absorbed deep into the skin, rather than simply resting on its surface. The effect is fast and visible, which is why the delivery system is proving so popular with skincare fans. With full, targeted HA infusion kits, pre-and-post products to boost results, and refill patches available from consultants, this is one direct sales company that makes it easy to turn back the clock and look your best.
---
My Butterfly Beauty Compensation Plan
As a My Butterfly Beauty consultant, you'll earn 20% commission on each sale, with the potential to earn up to 35% as your sales volume increases. Downline earnings of 2% up to 5% are also available from your team members.
---
My Butterfly Beauty Starter Kit
As a My Butterfly Beauty consultant, you'll begin building your business with the $49 enrollment pack, which contains everything you'll need to get started - training, digital sales materials, printed materials, and even your own My Butterfly Beauty website for online sales. You can also add on either the $199 Beauty Pack, an assortment of lip, eye, or brow (consultant's choice) products worth $400, or the $499 Beauty Achiever Pack, which includes the entire product line and is worth $1,250 retail. No matter which kit you choose, you'll be able to try My Butterfly Beauty skincare products out for yourself, as well as demonstrate them to your customers.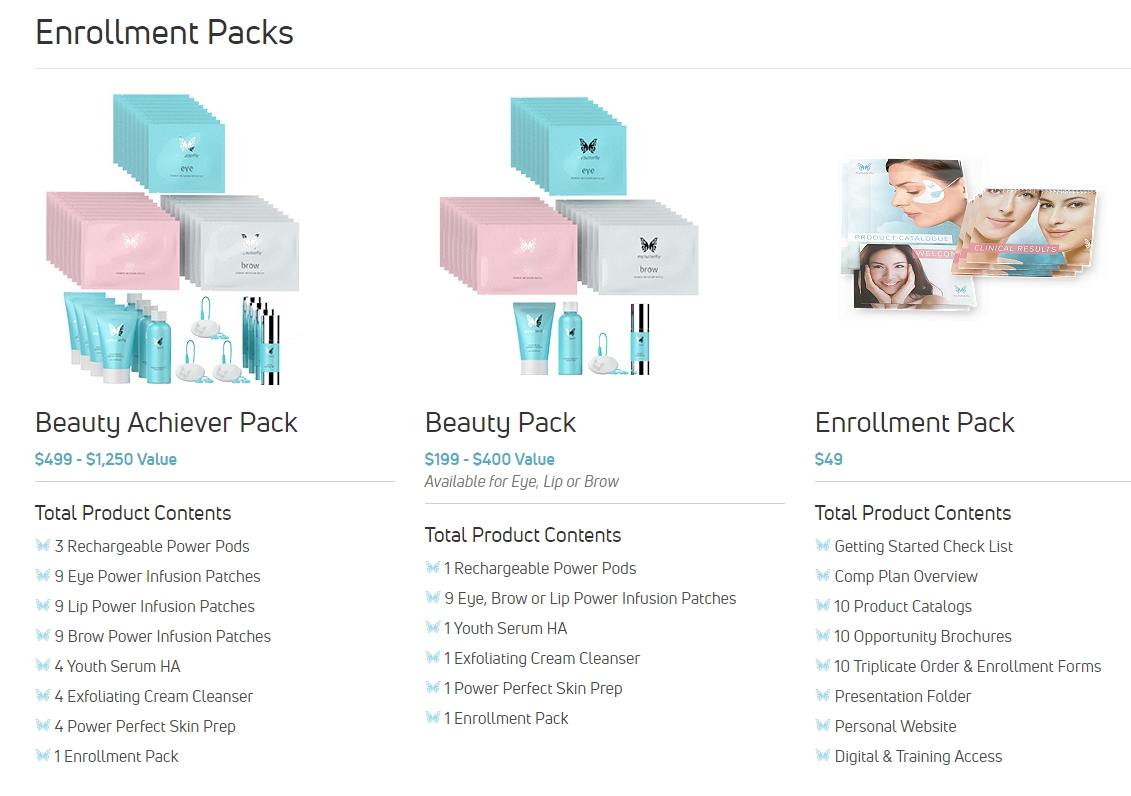 Pros
Established history / "family business" in anti-aging products.
Simple, easy-to-learn catalog helps consultant confidence.
Straightforward product is a fast sell for interested customers.
Refill kits may entice repeat buyers to return.
Cons
Very small catalog; only 9 total products.
High customer entry cost for complete product kit.
The proof it works is cumulative; this makes it a hard sell to some "newbies."
Buying separate lip, eye, and brow versions gets expensive for the customer.
---