Overview | Work From Home | Compensation Plan
---
Company Overview

While Stella and Dot may be named for the grandmothers of founders Jessica Herrin and Blythe Harris, this ten-year-old direct sales jewelry company is full of modern chic. With a product range that includes on-trend jewelry in everyday styles, fashionable bags, accessories like sunglasses and scarves, and even unique fine jewelry, there's a lot to love within the brand. While easy and fun to join as a independent stylist, Stella and Dot has the added benefit of considerable worldwide recognition in the direct sales market; the company was recently named an Inc. 500 Fastest-Growing Company - that's a lot of beautiful jewelry and accessories sold!
Simplicity is the Strength

Stella and Dot's strength is in the simplicity of its designs - while they're definitely both memorable and gorgeous, they're made to blend with your favorite top as easily as a fancy dress on a night out. The style value of each and every piece makes it appealing to fashion-forward buyers, which makes life as a Stella and Dot stylist lucrative and exciting. This direct sales company uses laid-back "trunk shows" to display and sell products, giving attendees and stylists alike the chance to have fun while they explore all the hottest looks waiting to be discovered.
If you love jewelry and spending time with friends, great news: you've already got what it takes to be a Stella and Dot stylist. Join up with this well-established direct sales jewelry company today to empower yourself as an entrepreneur and earn great commissions, product discounts, and the support of a company that's been making their mark for more than a decade.
---
The Stella & Dot Compensation Plan
Stella and Dot stylists earn 25% commission on every sale, with an opportunity to earn more from power seller monthly bonuses, leadership bonuses and up to five generations of downline stylists.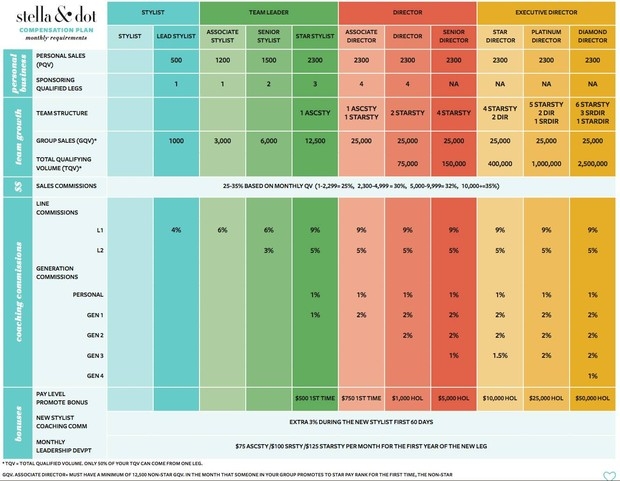 ---
Work from Home with Stella & Dot
Becoming a Stella and Dot stylist is as easy as selecting your favorite starter kit: the $199 Essentials Kit, the $499 More to Love Kit, or the $699 Ultimate Kit. These collections contain $350, $1000, and $1500 worth of products, respectively, to help you start your brand new business off on the right foot. You'll also receive access to your own personal sales website, as well as to the company's simple and incredibly helpful "Dottie" app for selling on the go. Printables, advertising materials, and order forms ensure that you're ready to start making great commissions from the moment you open the box, too!
Pros
Established, well-known direct sales brand minimizes risk.
Starter kit includes display items for easy demonstrations.
Weekly paydays via Stella and Dot-branded debit card.
No individual sales minimums. (team leaders need 500 PQV at least once quarterly.)
Cons
Diversified catalog - jewelry, accessories, high/low end - can make focus difficult.
A lack of public stylist listings can make it difficult to gage competition.
Free 90-day return policy can impact sales well after trunk show delivery.
Items can be consumer-purchased directly through the company website.