Everyone enjoys a good home-cooked meal but not everyone gets to enjoy this kind of luxury all the time. Whether you don't think you have what it takes whip up good dishes or you are just starting to discover the joy of cooking and cannot handle complicated recipes just yet, there is a quick and easy solution for your cooking needs and this comes in the form of Do You Bake Recipes—a line of delightful recipe mixes that are very easy to prepare. With the help of Do You Bake?, you don't have to worry about complicated cooking instructions that you cannot understand or having to buy so many ingredients, making it difficult to figure out how or even where to start. Do You Bake recipes makes cooking fun and easy.
By making use of Do You Bake Recipes, you can finally say goodbye to take-out boxes and fast food meals that leave you unsatisfied, as you would certainly be a whiz in the kitchen in no time! Offering a wide-range of quick recipe mixes; from side dishes and entrees, to easy cake recipes and snacks, you can finally cook all your food in the comforts of your own home and fully utilize your kitchen. Also great for working moms or housewives who want to make cooking fast and easy without compromising the taste and quality of the meals they prepare, Do You Bake recipes are made for everyone to enjoy.
The great thing about these products is the fact that they are made from 100% natural ingredients and contains little or no additives and preservatives. You can forget the notion that just because it comes pre-packaged means its unhealthy, as Do You Bake recipes can easily prove you wrong.
Top Do You Bake Recipes
Wondering what to try out first? Below are some of the top product recipes from Do You Bake to give you some idea of Do You Bake's product line: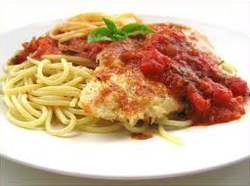 Pasta and Rice
There is a wide selection of Do You Bake Recipes for pasta and rice. Both great dishes to serve as a main course, you can easily prepare your favorite pasta or rice-based meals for lunch or dinner without breaking a sweat.
The Chicken Parmesan pasta recipe from Do You Bake has become a crowd-favorite overtime. Purchase the pasta mix that comes with brown rice pasta and a packet of special spices, if you want to be able to prepare this dish in less than an hour. Just add some chicken to complete the delightful pasta dish.
There is also a bunch of rice-based Do You Bake recipes that you can enjoy: from saffron rice combined with herbed chicken to a delightful rice pudding, there is certainly a lot that you can expect when it comes to the Do You Bake recipes selection.

Cakes, Brownies, and More
Who doesn't love baking? Just the idea of being able to create your own special desserts and having the smell of vanilla and chocolate come out of the oven is enough to make you swoon with delight. Whether you feel like baking a fresh batch or your favorite chocolate-chip cookies or some brownies, Do You Bake recipes makes it a lot easier for you to accomplish this and serve your favorite desserts for you and your family to enjoy. Give regular brownies a fresh twist with Do You Bake's coconut brownie recipe or mocha brownie recipe, bake a classic chocolate cake, or indulge in the strong flavors of a piece of coffee cake. These are all easily possible with the help of your favorite Do You Bake recipes.

Do You Bake Recipes for Health Conscious People
Are you conscious about your weight? Rid yourself of gaining those unwanted pounds with Do You Bake recipes that are especially made for the health conscious. Prepare some whole-wheat pancakes or your own cinnamon raisin bread for lesser calories. Good for your heart, your overall health, and your weight, Do You bake recipes from their healthy collection offers good food without the guilt.
Where to Buy Do You Bake Recipes?
If you've learned enough and you cannot wait to get hold of these delightful Do You Bake recipes and mixes, then why not contact a consultant now to order some? Or if you are in a celebratory mood, why not host a party for family and friends and serve these delicious treats to your guests? If you don't feel like being the hostess, then attend a home party near you instead. Home parties are a great venue to try out these delectable Do You Bake recipes so you can decide which recipes are your top favorites. You also get to order them straight away from a Do You Bake consultant assigned to the party.
If you are too busy to attend a home party, you need not worry, as you can also avail of the complete line of Do You Bake recipes online for easier access and convenience.
Whatever dish or dessert you are in the mood for, you can expect to find some of your favorites from Do You Bake. Let these wonderful Do You Bake recipes guide you to cooking a great home-cooked meal that would truly make you proud.