JewelScent products take home ambiance and personal care items to a whole new level. Intriguing scents waft from soy blend candles and tarts, shimmering beads, luxurious argan oil based soaps and cane sugar scrubs. The fragrance blends are balanced and sophisticated, designed by artisans who love to create wonderful smelling products.
The added sparkle of these decor and bath and body products are the beautiful, fun and flirty rings hidden inside each. High quality, colorful and glittering costume jewelry lights up every JewelScent item from within. A bonus that delights not just for the moment but becomes part of each customer's collection, the search for the rings is a highly anticipated part of the JewelScent experience.
Candles And Wax Tarts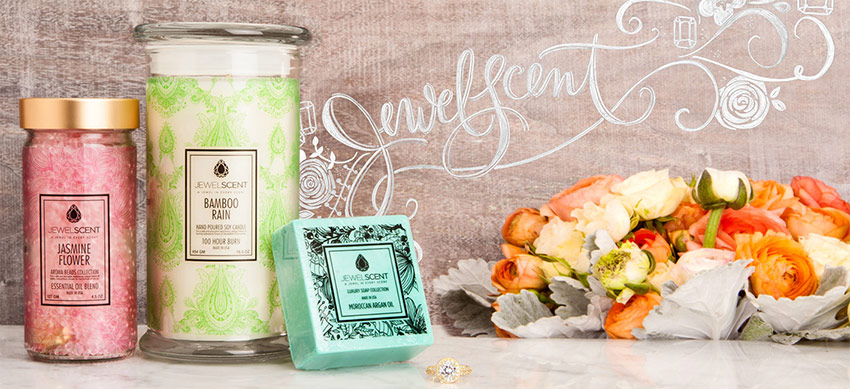 Elegantly designed glass containers embrace the Classic, Signature and Perfect Gifts candles, containing the glint of gold or silver foil within the luminous, creamy white and deeply fragrant wax. Crafted from a blend of soy and other waxes that create a smooth candle that burns cleanly, the wick is flat braided with a filament that improves the brightness and golden glow of the flame. As it burns down, sharing the lovely scent, the wait begins for that gleam signalling the ring or rings are found.
Classic candles reveal one ring valued from $10 to $7,500. Signature candles cradle a $15 to $7,500 ring. Occasions candles feature two rings while the Trio candles boast three rings of $10 to $7,500 value each.
As JewelScent wax tarts melt the luscious fragrances spread throughout the room without the need for a flame. Perfect for places where a open fire is unsafe or impractical, the tarts also contain a ring valued from $10 to $7,500.
Beads

Opalescent beads of subtle colors share the JewelScent fragrances when poured into a dish or opened with the lid left off, and are delightful in sachets or organza bags stashed in drawers and closets. Within the pearly beads is a ring valued from $10 to $7,500.
Soaps

Skin is nourished with Moroccan Argan Oil, hydrated, protected and luxuriously scented when washing with JewelScent's hand soaps. Deep within the bar is a ring appraised at $10 to $7,500.
Scrubs
Pure cane sugar smoothes away roughness and improves skin clarity and texture with naturally produced glycolic acid in JewelScent's indulgent body scrubs. Sensuous fragrances scent the skin while skin is exfoliated and rejuvenated. Within the depths of the jar is a $10 to $7,500 ring.
The Rings
Wrapped in foil and tucked inside a plastic sac, each ring has a number attached to help determine its value on the JewelScent website. If luck strikes a token replaces the ring when the value is more than $99, and the actual ring is sent separately when JewelScent is alerted of the rare find.